Repair of components and systems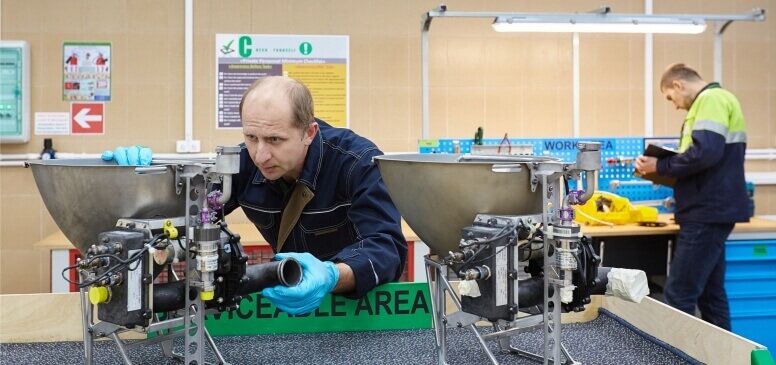 Modern laboratory complex of S7 Technics maintains and repairs aviation equipment of major aircraft types, including:
Avionics
Radio and related equipment
Onboard kitchen equipment
CFM56-5/7 engines MRO
Hydraulic components
Light and signal equipment
Cabin light equipment
Emergency escape equipment
Oxygen supply equipment
Air conditioning system equipment and components
Fire extinguishing equipment
Vacuum toilets Safran Aerospace
Batteries
Repair and maintenance of heat exchange systems TAT Engineering.
Engine MRO shop is opened up in 2016 in partnership with SR Technics – European leader of MRO services production. S 7 ENGINEERING's engine MRO shop is based at Domodedovo airport and provides MRO services for CFM56-5B/7B engines. CFM56 engines maintained in the new shop are among the most widely-used power plants in aviation today, and are used on some the world's most popular aircraft types like Airbus A320 Family and Boeing 737 NG. Technical staff of our company has passed special education. Apart from on-wing maintenance, the shop's team is capable of removing engines from wing and carrying out in-shop maintenance when a more detailed inspection is needed.
We serve 8 types of aircraft
Airbus A320ceo Family
Line maintenance: DME, OVB, MRV, IKT, VVO
Base maintenance: DME, OVB, MRV

Airbus A320neo
Line maintenance: DME, OVB, IKT, VVO
Base maintenance: DME, OVB

Boeing 737 CL
Line maintenance: DME, OVB, MRV, IKT, VVO
Base maintenance: DME, OVB, MRV

Boeing 737 NG
Line maintenance: DME, OVB, MRV, IKT, VVO, YKS
Base maintenance: DME, OVB, MRV

Boeing 737 MAX
Line maintenance: DME, OVB

Boeing 757
Line maintenance: DME, OVB
Base maintenance: OVB

Embraer E170
Line maintenance: DME, OVB, IKT
Base maintenance: DME, OVB

SSJ-100
Line maintenance: DME, SVO, MRV
Base maintenance: DME