Line & Base maintenance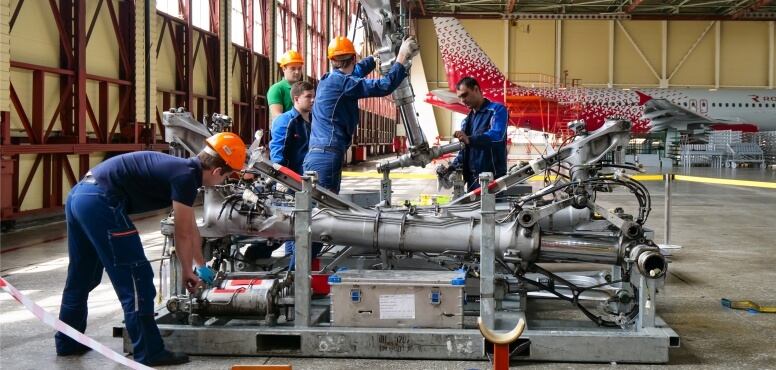 On time aircraft maintenance planning eliminates the risks of cancellation and delay of flights during the high season and peak periods and as a result saves your money.
Specialists of S7 Technics company do perform all types of line and base aircraft maintenance. We are always ready to give you recommendations on how to optimize the maintenance cost of your airline's fleet.
Serviced aircraft types:
Boeing 737 CL&NG
Boeing 737 MAX
Boeing 757/767
Airbus A320neo Family
Embraer E-170
Sukhoi SSJ-100
Line maintenance – Transit check, Daily check, Weekly check, A-Check, 750 FH, 600 RH or equivalent.
Our LMS are located in 5 time zones across Russia: Moscow, Minerlanye Vody, Novosibirsk,  Irkutsk, Vladivostok. Such location is convenient for the fleet maintenance of airlines from Europe, Asia, the Middle and Far East.
Base maintenance – C-Check, D-Check, 12Y, 10Y or equivalent.
Our hangars for base maintenance are located in Moscow, Minerlanye Vody and Novosibirsk. Our capacity allows to perform maintenance for up to 10 C-Check lines of aircraft at the same time.
Cyclean® engine washing services
Regular engine wash results in significant increase of its operating time until it reaches the point when EGT (exhaust gas temperature) Margin deteriorates down to zero and the engine requires a shop visit. It also tangibly improves fuel efficiency, reducing fuel burn by up to 1 %.
Cyclean® is universal and may be used even on new generation engines such as PW1100G-JM and LEAP-1B and 1A. S7 Technics also offers the service for CFM56-5A/5B/7B, CF34-8 and V2500. Technical features of this system provide possibility to perform washes up to -10° C.
Feel free to contact our Clients Service to book a slot for your aircraft.
We serve 8 types of aircraft
Airbus A320ceo Family
Line maintenance: DME, OVB, MRV, IKT, VVO
Base maintenance: DME, OVB, MRV

Airbus A320neo
Line maintenance: DME, OVB, IKT, VVO
Base maintenance: DME, OVB

Boeing 737 CL
Line maintenance: DME, OVB, MRV, IKT, VVO
Base maintenance: DME, OVB, MRV

Boeing 737 NG
Line maintenance: DME, OVB, MRV, IKT, VVO, YKS
Base maintenance: DME, OVB, MRV

Boeing 737 MAX
Line maintenance: DME, OVB

Boeing 757
Line maintenance: DME, OVB
Base maintenance: OVB

Embraer E170
Line maintenance: DME, OVB, IKT
Base maintenance: DME, OVB

SSJ-100
Line maintenance: DME, SVO, MRV
Base maintenance: DME