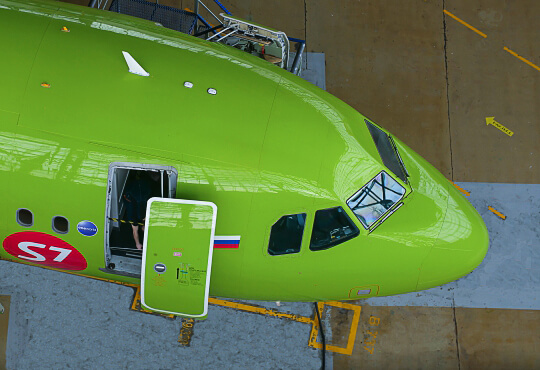 S7 Technics
S7 Technics is the largest company that provides maintenance services for the Western and Russian aircraft in Russia and CIS.
Company's mission
Ensure a high level of flight safety in Russia and neighboring countries
Facts & Figures
29
aircraft painted per year
How do we work
We are always trying to stay updated, integrate new technologies and methods in aircraft maintenance, improve our specialists' skills and knowledges level, following industry trends and planning development of our company few years ahead.
According to AMOS IT-platform, we are building effective communication between all company departments. That gives us an opportunity to provide services as fast as it possible without any faults, foresee any risk factors and prevent them 24/7.
Our advantages
Best value
We offer the best value to our clients for aircraft maintenance and repair.
Time economy
Our specialists are ready to provide all complex of services with heavy and light maintenance, component repair, interior repair and aircraft painting for a minimum period of time.
Really close to you
Our MRO stations are located in 5 time zones across the Russia and the most convenient for airlines from Europe, Asia, the Middle East and the Far East.
Trusted be leading airlines
Our key customers are the leadingworld airlines: Aeroflot, S7 airlines, Rossia, Yamal Airlines, Ural Airlines, Azur Air, Zoom Air, IrAero, etc.
All these factors help us to stay leading MRO provider in Russia and CIS.
Quality
The level of professional training of engineering and maintenance personnel is confirmed by the certificates of European, Bermuda and Russian aviation authorities (EASA, BCAA and RCAA) to perform maintenance on aircraft, engines, components.
Availability of certificates of the European Aviation Safety Agency EASA Part-145, Part-147, Part-21G, Part-21J

The Bermuda Civil Aviation Authority certificate BDA / AMO
The Russian Civil Aviation Authority certificate FAR-285

The Bermuda Civil Aviation Authority certificate OTAR Part 39 Option 2 Subpart F for the Continuous  Airworthiness Management Organization.
EN 9110:2016 certification
S7 Technics company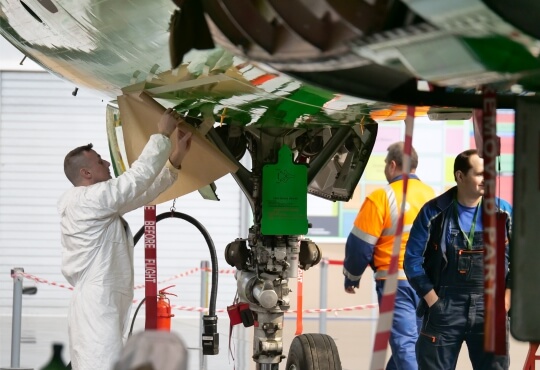 S 7 ENGINEERING
S 7 ENGINEERING – is a Moscow based MRO company that offers maintenance services for Western-built aircraft and components. The professional staff is composed of over 1000 highly skilled specialists. Its two main bases are located at Moscow Domodedovo Airport and Mineralnie Vody Airport (Southern part of Russia).
Read more