Aircraft painting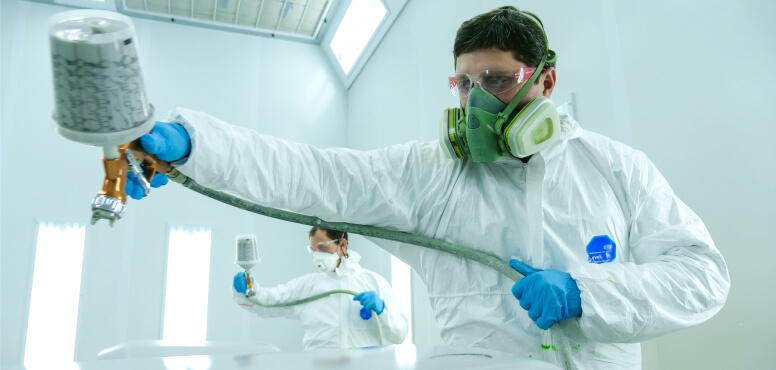 The painting hangar, operating under the EASA Part 145 Certificate, is located at Mineralnye Vody airport. This is a modern base with the capacity of any narrow-body aircraft, up to Airbus 320neo, Boeing 737 MAX and Boeing 757. The hangar is equipped with a modern dust removal system, provides optimal temperature and humidity, in any time of the year. The hangar is equipped with a modular dock system Layher, quickly changed to the desired type of aircraft.
Painting is made by HVLP (High Volume Low Pressure) and Electrostatic Coating Graco systems.
Specialists of the painting hangar were trained under the guidance of experts from the companies MaasAviation, PPG Aerospace, Cee-Bee, Akzo Nobel, Graco.
Our specialists are trained and approved for AkzoNobel coatings: Base Coat\Clear Coat, Eclipse, Aviox, Aerobase, Aerodur, BCCC MICA Aviox, BCCC MICA Aerobase; PPG Aerospace: Base Coat\Clear Coat, CA8000, CA9000, BCC9008, BCC9008 MICA.
During the aircraft painting we use the advanced technology Base Coat/Clear Coat (base/varnish), which is a protective coating by a special varnish, which reduces the adverse effects of ultraviolet radiation during operation of the aircraft. We are also ready to offer our customers the application of MICA coating.
In matters of painting aircraft we are trusted by airlines: Aeroflot, S7, Rossiya, Zoom Air, Utair, Ural Airlines, Air Astana, Weltall.
Check the availability of slots for painting Your aircraft from our experts.
We serve 8 types of aircraft
Airbus A320ceo Family
Line maintenance: DME, OVB, MRV, IKT, VVO
Base maintenance: DME, OVB, MRV

Airbus A320neo
Line maintenance: DME, OVB, IKT, VVO
Base maintenance: DME, OVB

Boeing 737 CL
Line maintenance: DME, OVB, MRV, IKT, VVO
Base maintenance: DME, OVB, MRV

Boeing 737 NG
Line maintenance: DME, OVB, MRV, IKT, VVO, YKS
Base maintenance: DME, OVB, MRV

Boeing 737 MAX
Line maintenance: DME, OVB

Boeing 757
Line maintenance: DME, OVB
Base maintenance: OVB

Embraer E170
Line maintenance: DME, OVB, IKT
Base maintenance: DME, OVB

SSJ-100
Line maintenance: DME, SVO, MRV
Base maintenance: DME