Engines maintenance & repair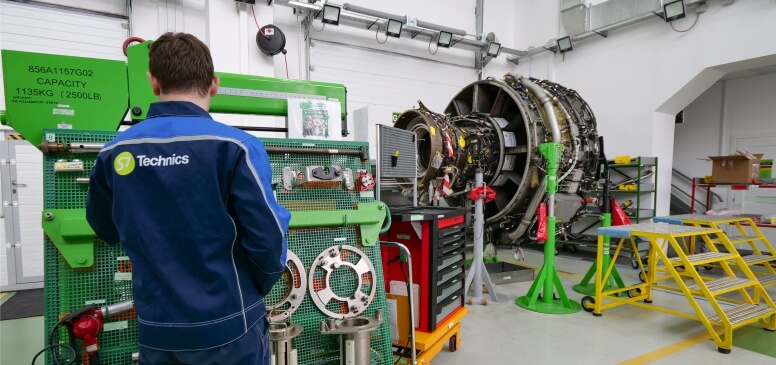 CFM56-5B/7B engines are one of the most popular in commercial aviation. Every day they prove their reliability on thousands of aircraft around the world. The engine is the real heart of the aircraft, which requires regular qualified maintenance.
The engine specialists of S7 Technics Holding have been trained on the basis of the Swiss partner SR Technics and already today, the facility of the shop for the repair of aircraft engines at the  Domodedovo airport successfully serves more than 23 power plants per year.
The implemented LEAN & Continuous Improvement program allows the engine shop staff constantly improve and optimize their work, by improving the quality of service performed while reducing the time of engine maintenance and repair.
Engine shop mechanics are ready to perform maintenance and inspection of CFM56-5B/7B engines both on-wing and off-wing. During the maintenance process, the key components of engines  are checked, components are replaced, in order to extend the period of effective engines exploitation.
The only in Russia CFM56 engine shop is a great opportunity for airlines from Russia and abroad to solve the problem of time and financial costs in the maintenance of power plants of the aircraft.
The company's Moscow Domodedovo-based station has recently launched Cyclean® engine washing, a new service, unprecedented and unrivaled in Russia
We serve 9 types of aircraft
Airbus A320ceo Family
Line maintenance: DME, OVB, MRV, IKT, VVO
Base maintenance: DME, OVB, MRV

Airbus A320neo
Line maintenance: DME, OVB, IKT, VVO
Base maintenance: DME, OVB

Boeing 737 CL
Line maintenance: DME, OVB, MRV, IKT, VVO
Base maintenance: DME, OVB, MRV

Boeing 737 NG
Line maintenance: DME, OVB, MRV, IKT, VVO, YKS
Base maintenance: DME, OVB, MRV

Boeing 737 MAX
Line maintenance: DME, OVB

Boeing 757
Line maintenance: DME, OVB
Base maintenance: OVB

Boeing 767
Line maintenance: DME, OVB, VVO
Base maintenance: OVB

Embraer E170
Line maintenance: DME, OVB, IKT
Base maintenance: DME, OVB

SSJ-100
Line maintenance: DME, SVO, MRV
Base maintenance: DME