Engines maintenance & repair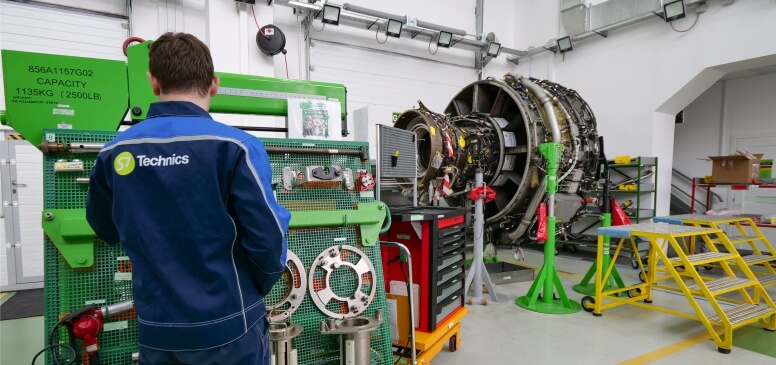 CFM56 engines are one of the most popular in commercial aviation. Every day they prove their reliability on thousands of aircraft around the world. The engine is the real heart of the aircraft, which requires regular and qualified maintenance.
S7 Technics engine specialists passed the training in the maintenance facility of Swiss partner SR Technics and nowadays at our own engine, shops located in Domodedovo airport (DME) and Mineralnye Vody airport (MRV) successfully serves more than 23 power plants per year. Both maintenance facilities equipped with all necessary tooling and ready to induct the engines is a short notice.
The implemented LEAN and Continuous Improvement program allows the engine shop staff constantly improve and optimize their work, by improving the quality of service performed while reducing the time of engine maintenance and repair.
Engine shop mechanics are ready to perform maintenance, inspection and repair of CFM56-3/-5B/-7B engines both on-wing and off-wing including field service support at customer maintenance facility with personnel provision and equipment transportation. During the maintenance process, we are inspecting key engine components, repair and replace them as necessary, in order to extend engine on-wing operation period. We provide to the customers EASA form 1 for the services performed by S7 Technics specialists.
The only one in Russia CFM56 engine shop is a great opportunity for the airlines from Russia and abroad to solve aircraft engines maintenance cost problems in a short timeframe.
S7 Technics has a wide rating for CFM56-3/-5B/-7B engines repair which includes the following standard workscopes:
Engine general visual inspection
Engine borescope inspection
Engine redelivery inspection
Fan Disc replacement
Fan Containment Case replacement
HPС Top Case repair
HPC stator case repair with vanes, bushings and seals replacement
LPT stage 1 NGV segments replacement
HPT rotor blades replacement
HPT NGV segments replacement
Combustor chamber replacement
Engine modules replacement: LPC booster, LPT major module, AGB and TGB modules
Bearing №4 replacement
Engine preservation for a period from 30 up to 365 days and preservation extension
VBV system modification per SB 75-0045 on CFM56-5B engines
QEC, LRU and accessories removal, inspection and installation
Our capabilities are not limited to the standard workscopes. When performing repairs of CFM56 engines, S7 Technics specialists use an individual approach to each project and ready to develop and offer a solution for each specific request. The main priorities for the aircraft engines repair shop are high quality and low repair turnaround time. Upon request, S7 Technics specialists are ready to provide consultancy services and engine preparation for storage and transportation such as engine shrink wrap in plastic film.
More information about engines & APU services you can find in presentation.
We serve 8 types of aircraft
Airbus A320ceo Family
Line maintenance: DME, OVB, MRV, IKT, VVO
Base maintenance: DME, OVB, MRV

Airbus A320neo
Line maintenance: DME, OVB, IKT, VVO
Base maintenance: DME, OVB

Boeing 737 CL
Line maintenance: DME, OVB, MRV, IKT, VVO
Base maintenance: DME, OVB, MRV

Boeing 737 NG
Line maintenance: DME, OVB, MRV, IKT, VVO, YKS
Base maintenance: DME, OVB, MRV

Boeing 737 MAX
Line maintenance: DME, OVB

Boeing 757
Line maintenance: DME, OVB
Base maintenance: OVB

Embraer E170
Line maintenance: DME, OVB, IKT
Base maintenance: DME, OVB

SSJ-100
Line maintenance: DME, SVO, MRV
Base maintenance: DME