S7 Technics assists Air Astana with first in-house C-Check
Russia's S7 Technics aircraft maintenance service provider and Kazakhstan's national carrier Air Astana continue to expand their partnership in terms of MRO of the airline's fleet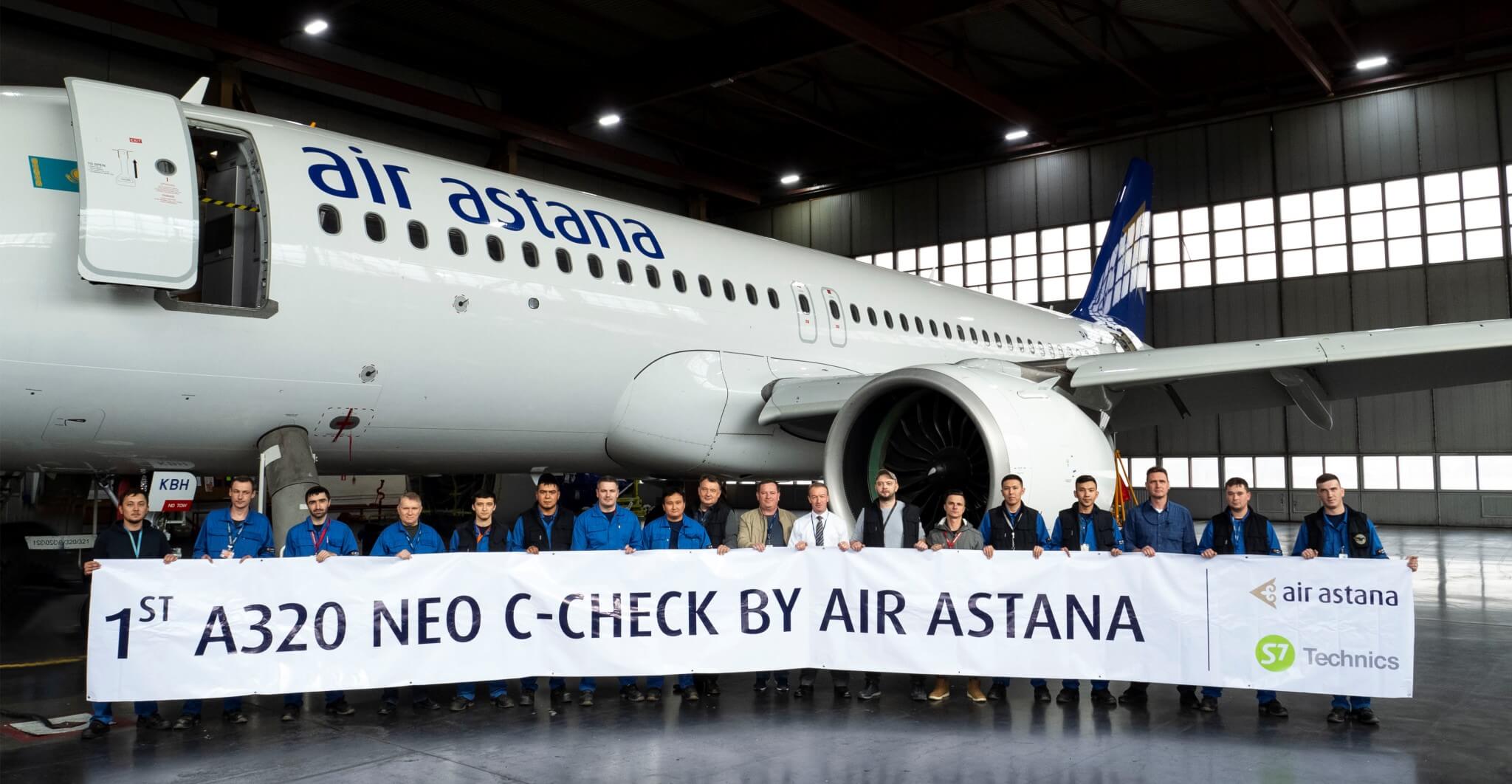 In November 2019 Air Astana supported by S7 Technics' team completed its first in-house base maintenance check – 1C-Check on an Airbus A320neo.The check was performed at the airline's hangar facility at Almaty Airport under Air Astana's own EASA Part 145 certificate.
To provide support to its key customer S7 Technics commissioned a team of six professionals to Almaty – project manager, deputy production manager, head of the department and three engineers.
In advance of its first base check Air Astana prepared its facilities and lined up the trained staff, as well as secured all appropriate approvals from aviation authorities.
"While Air Astana's staff were working on their first C-check, S7 Technics' team supervised directly at the customer's facility in Almaty," Alexey Zimin, project manager at S7 Technics explains. "Our team did not perform any procedures on the aircraft, but they shared their experience and best practices on planning and executing actions, on coordinating actions between different departments and on filing reports."
S7 Technics and Air Astana have been developing their cooperation for the last three years. In 2018 the two companies signed a five-year contract for the airline's aircraft to be maintained in Russia and Memorandum of Understanding, according to which the MRO service provider is assisting Air Astana in developing its own competences in performing base maintenance checks in Kazakhstan.
S7 Technics is also helping the airline build up MRO management system, train Air Astana's specialists during their internships both at S7 Technics' sites and at Air Astana's facilities in Nur-Sultan and Almaty.
"This is the first project of this kind in S7 Technics' history. But in aviation industry such cooperation, when a provider helps an airline develop its own competences, is not rare," notes Igor Panshin, S7 Technics' deputy general director for marketing and sales. "For an airline of Air Astana's calibre developing in-house capabilities for base maintenance is not a fancy, but a logical cost-saving measure. We believe, that this partnership between Air Astana and S7 Technics really makes sense in this respect. The airline benefits from competent support from us, whilst we have won a valuable customer. While Air Astana's base at Nur-Sultan is building its capabilities in A320neo maintenance, we continue our cooperation in other ways, including heavy checks on other types of aircraft operated by the Kazakh airline, at S7 Technics sites in Russia."
Photo by Air Astana